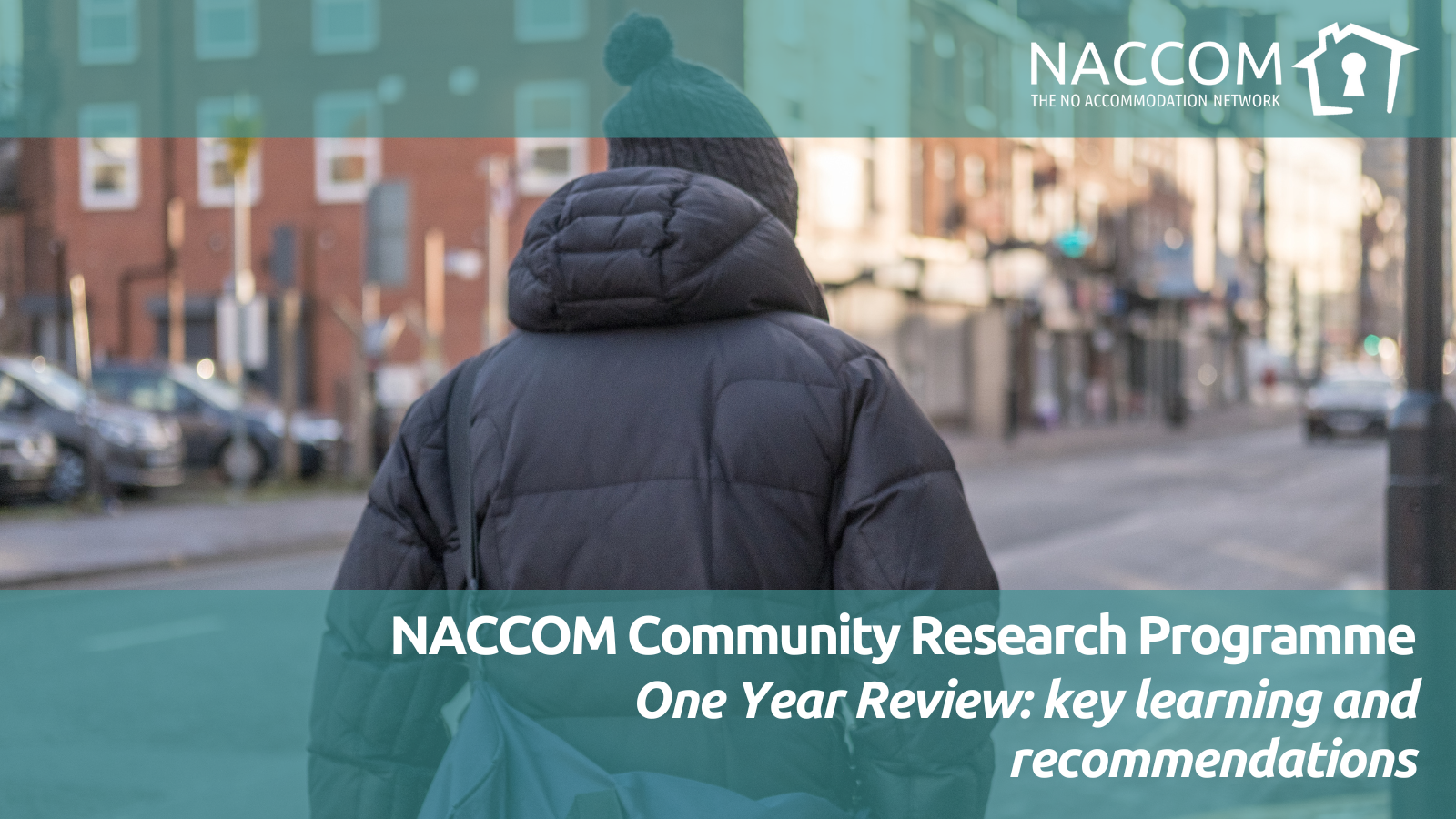 As part of our commitment to share knowledge throughout the duration of the project,

w

e're

now pleased to launch the first comprehensive

review of the Community Research

Programme.
Introduction

to the review

~ NACCOM Community Researchers:
This report tells the story of what we have learnt through being a part of the NACCOM Community Research Programme to-date. As Community Researchers and people who have faced the challenges of migration and destitution we want to use our experiences so that others do not face the same hardships that we have. Community Research is a way of understanding the problems our community faces and using our lived experience to try and make things better. Through being involved in the programme we have learnt much about ourselves and about how we can work together to deliver research work. This document shares some of this learning and we hope it will be of benefit to others who want to run a similar project or do research in their own communities. 
The report looks in detail at the following aspects of the programme;
How the programme review was approached, including review methodologies 

Key learnings from the review, including challenges and strengths

Recommendations and response  

Reflections on the programme from the Community Researchers

Recommendations for other organisations wishing to undertake similar research programmes 
NACCOM's Director, Bridget Young, commented:
This review provides an important opportunity to explore and present key learning outputs a year into NACCOM's Community Research Programme. It is also a testament to the openness, commitment and integrity that the Community Researchers have brought to all they have done. We hope that the insights provided in the review will offer valuable learning and inspiration to researchers and charities interested in starting their own Community Research programme. 

June 2022 marks ten years since the Hostile Environment came into force as a policy approach, driving many thousands of people into destitution and hardship by depriving them of vital services and support, creating barriers to integration and marginalising refugee communities. The Hostile Environment endures today in all but name and, as our network knows only too well, is still destroying the lives of thousands of people in the asylum and immigration system each year. It's more vital than ever that we centre the voices and experiences of people impacted by destitution in our collective fight for social justice and to effectively and meaningfully push for change.
Job vacancy: Community Research Facilitator
About the role:
The purpose of this role is to develop and facilitate a key area of NACCOM's Expert by Experience work – the Community Research Programme.  
This work has grown out of NACCOM's Community Reporter work and reflects NACCOM's commitment to sharing knowledge and power. The Community Research Facilitator will assist the group in planning and undertaking research sessions. They will ensure that the group is supported to do this ethically and impactfully. They will work with the NACCOM team to ensure that there are clear routes for the research findings and that they are presented directly to decision makers. The Community Research Facilitator will also provide volunteer management and supervision to Community Researchers and be responsible for managing the ongoing deliver and development of the programme.  
Key information:
Responsible to: Director  
Hours: 37.5 hours per week   
Salary: £28,226 – £30,095 + 6% pension. London weighting will be considered. A further cost of living increase will be applied to this salary when approved by NACCOM trustees in July 2021. 
Leave: 25 days per annum pro rata plus bank holidays.  
Contract: Permanent. Part-time will be considered.  
Location: Home-based in the UK with regular travel requirements within the UK. Possibility of being based within a member organisation's office or a co-working space. 
We encourage people with lived experience of immigration control and destitution to apply if they have the right to work and meet the person specification. Should they meet the person specification criteria, they will be prioritised for interview.
For more information and to apply:
Please email your completed Application Form and Equality and Monitoring form to [email protected]
If you have any questions or would like to arrange an informal chat about the role,  please get in touch with Bridget Young at [email protected]
Deadline for applications:
Monday 11th July 9am: deadline for applications
20th and 21st July: interviews