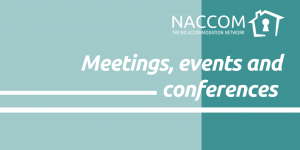 ➡️ Annual Conference
Our Annual Conference, which is usually held every November, offers a chance for all our members, as well as external partners and stakeholders, to meet in person, network and build relationships. The conference includes presentations on NACCOM's achievements over the year, examples of good practice from members and external stakeholders, as well as workshops.
Our next Annual Conference is on March 7, 2024 more details will be provide later.
➡️ Member Regional Hub Meetings
NACCOM is committed to seeing an end to asylum and migrant destitution and part of the way we do this is to share our ideas, support one another and develop best practice. Our Regional Hubs are a great opportunity to find out more about the diverse range of NACCOM members' accommodation projects as well as other exciting initiatives.
Details of our next Hub series will be posted here soon.
If there are specific topics that you would like to cover at any of these meetings, please do get in touch.
All members will receive an invitation to the hub meetings as soon as the dates are announced – if you're a member and haven't received your invitation, then please email our Network Development team. We also welcome attendance from partners and other colleagues in relevant fields.
➡️

Thematic Hub Meetings 
Our member-only Thematic Hub meetings explore specific issues facing member projects in more depth.
They are an opportunity for members to share and learn from one another's experience and expertise in addressing a particular issue and to explore solutions.
Our next Thematic Hub meeting will
take place
on
December 13, 2024
and will be an opportunity for members to discuss
ideas of how to prepare
for the implementation of the Illegal Migration Act.
➡️ Monthly members' drop-in Zoom call
Every month we host an informal Zoom call for NACCOM members who want to come together and share ideas, updates and issues, or just check in with others across the network. This is a friendly and informal space and all members are welcome. It's also an opportunity to hear all the latest updates from NACCOM.
Details of how to join the call are circulated via our members' Google group in advance of the meeting (if you are a member and would like to join our Google group, please email Hannah Gurnham).
Members' calls take place monthly on Wednesdays, between 1pm-2pm on Zoom. 2024 dates are as follows:
➡️ Wednesday Jan 10, 2024
➡️ Wednesday Feb 7, 2024
➡️ Wednesday Mar 6, 2024
➡️ Wednesday Apr 3, 2024
➡️ Wednesday  May 1, 2024 
➡️ Wednesday Jun 5, 2024
➡️ Wednesday Jul 3, 2024
➡️ Wednesday Aug 7, 2024
➡️ Wednesday Sep 4, 2024 
➡️ Wednesday Oct 2, 2024 
➡️ Wednesday Nov 6, 2024 
➡️ Wednesday Dec 4, 2024
If you have any queries regarding our national members' call, please get in touch with Paul Catterall, our Network Development Coordinator, to request further details, or to request access to the meeting independently of the Google group.