See below for details of all our upcoming events and activities – events are listed in chronological order
---
FUNDING YOUR PROJECT- NORTH AND SOUTH
April 29th (Leeds) and 14th May (London)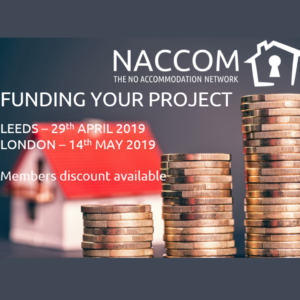 To assist with the development of skills and ideas for funding accommodation and support services for those facing destitution, and to launch our upcoming Toolkit on Funding, NACCOM is hosting two 'Funding Your Project' conferences this spring.
These one day events will feature workshops on different funding techniques and approaches alongside key note speeches from funders and more.
Dates and locations: Monday April 29th (St George's Conference Centre, 60 Great George St, Leeds LS1 3DL) and Tuesday May 14th (Housing Justice, 256 Bermondsey St, London, SE1 3UJ).
CLICK HERE TO GET TICKETS TO THE FUNDING YOUR PROJECT – LEEDS EVENT
CLICK HERE TO GET TICKETS TO THE FUNDING YOUR PROJECT – LONDON EVENT
Plan for the day (subject to minor changes/additions):
10.15 – 10.30- Arrival and registration
10.30 – 10.45- Introduction to the day and launch of the Funding Toolkit
10.45 – 11.30- Presentation from a top grant funder and Q&A
Leeds event– Ella Sips, Grants Manager (North West) at Lloyds Foundation
Ella Sips has been the Grants Manager for the North West at Lloyds Foundation since May 2018. She has 20 years of experience of working across in the Voluntary Sector, including as Chief Executive. She specialises in fundraising, bid writing, grant making, IT, marketing, training, business advice, finance, Social Enterprise and strategic thinking.
London event– Dominic Briant, Head of Community Investment at Metropolitan Thames Valley Housing.
Dominic Briant is the Head of Community Investment and Migration Foundation at Metropolitan Thames Valley Housing (formerly Metropolitan), having joined the organisation in 2016. The Migration Foundation invests in projects to make migration work for migrants and communities, with a particular focus on reducing destitution. Prior to this role, he held a number of management and leadership posts with the British Red Cross in the UK and assignments across the world. Outside of work, he is a Trustee of Reset – a national charity building Refugee Community Sponsorship in the UK.
11.30 – 12.45- Workshops: choose 1 from:
1- Raise money and awareness within your community (Community fundraising)
This workshop will teach you how to harness the power of the community by organising small events which will not only generate unrestricted income for your organisation but will raise awareness of your group in the local community.  The workshop will give details on how to find new individual donors, as well as volunteers, and help educate the public about your project.  
In Leeds, this will be facilitated by: Lyndsey McLellan, Community, Events and Grants Officer at ASSIST Sheffield
In London, this will be facilitated by: Anna Couper, Community Fundraising Manager at DePaul UK
2.      How to attract grants to destitution work (Trust & grant fundraising – who to apply to and top tips)- Facilitated by: Caron Boulghassoul, CEO from Nottingham Arimathea Trust
This workshop will give you ideas on the best places to look for grants as well as how best to approach funders, this includes top tips.  The workshop will also include guidance on the importance of having a fundraising strategy in place and the key aspects of a good fundraising strategy to ensure it works for your organisation.
12.45 – 13.45 – Lunch
13.45 – 14.30 The Guardian and Observer Winter Appeal: what we learnt about funding applications (Q & A with a panel of NACCOM staff)
14.30 – 15.45- Workshops: choose 1 from:
3.      The importance of measuring impact and a 'DIY' guide on how to do it (impact measurement)
In Leeds, this will be facilitated by: Jon Beech, Director at Leeds Asylum Seekers Support Network, who writes:
This workshop will be highly interactive.  We'll start with a whistle stop tour of ideas and resources for measuring impact, before working out the best way of explaining how your project makes a difference. The aim is to leave you with some concrete ideas of things you can do when you get back to your project, that will help you tell your story of success with clients, volunteers, trustees, donors and funders alike. 
In London this will be facilitated by: NCVO Charities Evaluation Services, who write:
This workshop will start with theory on measuring impact and then move to become more interactive.  Attendees will learn how to shore up positive and meaningful evidence and learn how to share your story, to not only report to funders but to share with the outside world.
4.   Harnessing the potential of digital fundraising (social media and digital methods for fundraising) – Facilitated by:  Katherine Maxwell-Rose, Digital Communications Manager at IMiX
In this workshop we will look at different methods and tactics to help you fundraise creatively online. We'll cover which social media platforms and tools to use to reach your audience including donate buttons and crowdfunding, making the most of your volunteers, the power of storytelling and the importance of visual content.  
15.45 – 16.30- Mini focus groups – what we have learnt and next steps
To purchase tickets for the Leeds and London events please click on either of the below buttons. For more information get in touch.
CLICK HERE TO GET TICKETS TO THE FUNDING YOUR PROJECT – LEEDS EVENT
CLICK HERE TO GET TICKETS TO THE FUNDING YOUR PROJECT – LONDON EVENT
---
NACCOM is committed to seeing an end to asylum and migrant destitution and part of the way we do this is to share our ideas, support one another and develop best practice. Our hubs are a great opportunity to find out more about the diverse range of NACCOM members' accommodation projects as well as other exciting initiatives. Find out when the next ones are in your region below:
South West and South Wales
Date: May 8th
Location: Cardiff
Venue: Virgin Money Lounge, 18/19 Trinity Street, Cardiff, CF10 1BH
Time: 11.30am – 4.00pm (refreshments from 11am)
Contact Dave for more details
East Midlands and South Yorkshire
Date: June 6th
Location: Nottingham
Venue: TBC
Time: 11:30 (11:00 for coffee) to 4pm
Contact Paul for more details
North West of England
Date: June 6th
Venue and times to be confirmed
Contact Dave for more details
North East & Scotland
Date: 11th September
Location: Stockton-on-Tees
Venue: TBC
Time: 11:30 (11:00 for coffee) to 4pm
Contact Paul for more details
London, South & South East 
Date: 4th  September
Location: London
Venue: JRS (Jesuit Refugee Services UK), Hurtado Jesuit Centre, 2 Chandler Street, London, E1W 2QT
Time: 11:30 (11:00 for coffee) to 4pm
Contact Paul for more details
---