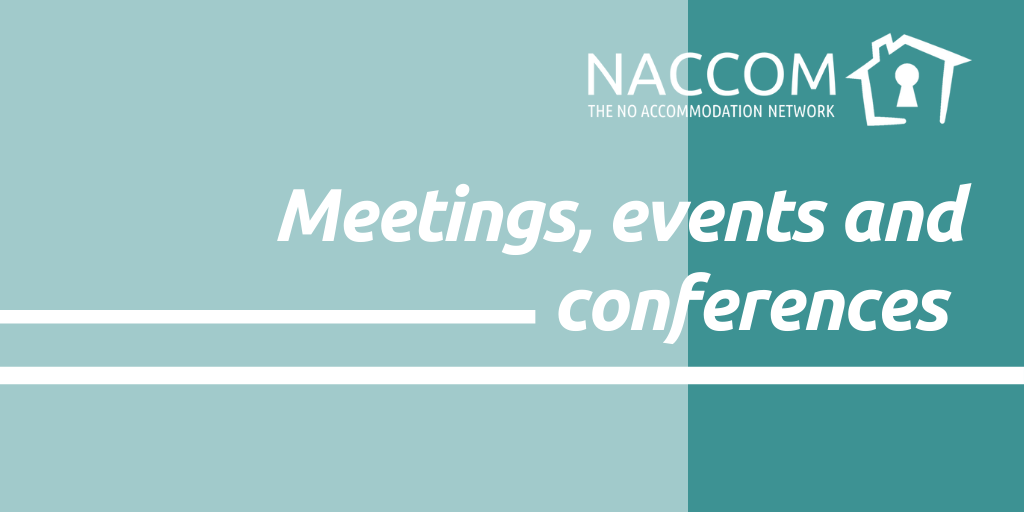 ---
Fortnightly members' drop-in Zoom call
Every fortnight we host an informal Zoom call for NACCOM members who want to come together and share ideas, updates and issues, or just check in with others across the network. This is a friendly and informal space and all members are welcome. It's also an opportunity to hear all the latest updates from NACCOM.
Details of how to join the call are circulated via our members' Google group in advance of the meeting (if you are a member and would like to join our Google group, please email Hannah Gurnham, our Communications Co-ordinator).
*** Our next national member Zoom meetings will be***
June, 1st, 15th, 29th
July, 6th, 20th
August TBC
If you have any queries regarding our national members' call, please get in touch with Paul Catterall, our Network Development Officer, to request further details, or to request access to the meeting independently of the Google group.
---
Regional and Thematic Hubs – now online
NACCOM is committed to seeing an end to asylum and migrant destitution and part of the way we do this is to share our ideas, support one another and develop best practice. Our hubs are a great opportunity to find out more about the diverse range of NACCOM members' accommodation projects as well as other exciting initiatives.
Regional hub meetings
Our hub meetings are now conducted by Zoom, and take place twice a year per hub region.
The next round of both regional hub meetings will be in Spring 2021 as follows:

➡️ London, South and South East – Thursday 22nd April, 2pm – 3.45pm (via Zoom)
➡️ West Yorkshire and Humberside – Thursday 6th May, 2pm – 4pm (via Zoom)
➡️ North West and Northern Ireland – Thursday 13th May, 2pm – 4pm (via Zoom)
➡️ North East and Scotland – Thursday 20th May, 10am – 12 midday (via Zoom)
➡️ South West – Thursday 20th May, 2pm – 4pm (via Zoom)
➡️ West Midlands – Tuesday 8th June, 2pm – 4pm (via Zoom)
➡️ East Midlands and South Yorkshire – Thursday 10th June, 2pm – 4pm (via Zoom)
➡️ Wales – Thursday 17th June, 2pm – 4pm (via Zoom)
We will send out more details, agendas and Zoom links nearer the time. If there are specific topics that you would like to cover at any of these meetings, please do get in touch.
All members will receive an invitation to the hub meetings as soon as the dates are announced – if you're a member and haven't received your invitation, then please email Paul Catterall. We also welcome attendance from partners and other colleagues in relevant fields. If you're interested in taking part, please get in touch.
Thematic hub meetings
Following feedback from members, we have also launched a series of 'thematic' hub meetings to explore the specific issues facing different types of accommodation project and drop-in services in the network, as we transition out of the pandemic.