See below for details of all our upcoming events and activities: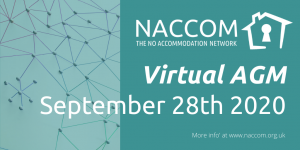 This year, NACCOM will be hosting our Annual General Meeting online via Zoom on Monday September 28th 2020. The meeting will feature an overview of NACCOM's work from across the year, including our impact, as well as staff changes, financial reporting, and the election of our new Trustees. All are welcome to attend.
Date: Monday September 28th 2020
Time: 2pm (TBC)
Zoom details: These will be released nearer the time.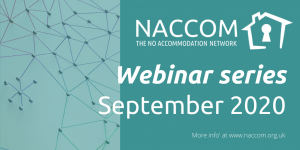 In place of our Annual Conference, which usually takes place at the same time as our AGM, we'll be running a series of online workshops on themes that have emerged as important to our members, based on discussions and feedback we've had during the course of the year.
There will be four workshops run across three weeks, leading up to our online AGM (details above) on Monday 28th September. We'll be releasing details of the workshops throughout the summer.
Workshop 1: Inclusion and equity within organisations (run by brap)
Date: Wednesday 9th Sept, 2020
Time: 2pm to 4.15pm (to allow for a break half way through)
Location: Online via Zoom
Tickets: 25 spaces are available. This event is free for NACCOM members. (As spaces are limited and the event is likely to be oversubscribed, please note that NACCOM reserves the right to charge a fee of £40 to anyone who signs up to the event but does not participate.) Please note that we are releasing tickets to NACCOM full members first, and will then release the remainder to NACCOM Associate Members. 
Workshop details:
This workshop is run by the charity brap.
How can we secure justice in the world, if we do not pay attention to structural racism in the third sector and to how issues of racial justice and equity play out in our organisations? 
About: This workshop will explore how issues like unconscious bias and conscious bias (discrimination) play out in organisations. During the workshop participants will have the opportunity to consider how organisational habits, behaviours and culture privileges some above others. Participants will begin to explore and consider what is needed to tackle these issues both within our organisations and across our sector.
Outcomes: By the end of the workshop, participants will: understand more about unconscious bias and the masking of conscious discrimination; have explored different types of biases and their impact on organisational culture and behaviours; and discussed strategies to progress race equality, both at individual and organisational levels. This workshop will be of particular interest to anyone who is interested in understanding more about how racism is normalised both within organisations and across our sector.
Workshop 2; Providing accommodation to people seeking asylum and other migrants in the changing landscape of Covid-19
What have we learnt from Covid-19? How have we (and how can we?) adapt our services to work in partnership to deliver a more client-focussed and holistic accommodation model with the goal of achieving positive move-on for people?
This workshop will hear from two NACCOM members for whom "Everybody In" has led to a redesign of their existing delivery model, enabling people being accommodated to be more involved in shaping the service and better supported to see lasting changes in their circumstances.
Date: Tuesday 15th Sept, 2020
Time: 2pm to 3.15pm
Location: Online via Zoom
Tickets to this event are free. This event is an open event and welcome to all. Tickets will be released soon.
More workshop details coming soon…
Events and opportunities for members
Mental Health First Aid training
We're pleased to be able to offer members the opportunity to take part in an online Mental Health Fist Aid course, a practical skills and awareness course designed to equip learners with the skills and confidence to spot the triggers and signs of mental health issues, and provide support and signposting to self-help, or professional services.
The new online version of the course delivers the same evidence-based learning outcomes of the popular 'face-to-face' Adult MHFA Two Day course in an accessible and flexible online format. The course is structured around a blend of individual learning and live sessions. These are all conducted online via a new Online Learning Hub – an integrated learning platform. Learners who complete the course will be certified by us as Mental Health First Aiders. They will receive an e-certificate on completion of the course.
We can now confirm that the course will run over 4 days on;
Tuesday 28th July
Friday 31stJuly
Tuesday 4th August
Friday 7th August
Sessions 1, 3 and 4 will run from 2:30 to 4:30pm, while session 2 will run from 2:30 to 5pm.
Pre-learning takes about 1 hour before session 1, and 2 hours before each of the other sessions.
If you have already expressed an interest in this course you will be sent a direct email seeking your confirmation that you can commit to the above dates.
If you have not already sent an expression of interest then please get in touch to see if there is still availability. 
Costs
Once registered, you will be sent an invoice for £30 together with a link which gives you access to the Mental Health First Aid England's portal, where you will have to formally register with them. Failure to complete this second registration stage means you will not be able to access the course.
Please note that there are only 12 places on this course so please only sign up if you can commit to both the sessions and the self-study. NACCOM is covering the majority of the £100+ course fee so we reserve the right to invoice the full cost if people fail to participate without a valid reason.
Fortnightly members' drop-in Zoom call – ongoing Covid response
Every fortnight we host an informal Zoom chat for members who want to join with others in the network to discuss project updates, share responses and best practice, and show solidarity in relation to the Coronavirus. All members are welcome. Details of how to join the call are circulated via our members' Google group in advance of the meeting.
*** Our next Zoom meeting will be on Tuesday 28th July ***
If you are a member and would like to join our Google group, please email Hannah Gurnham, our Communications Co-ordinator. Alternatively, please get in touch with Paul Catterall, our Network Development Officer, to request details of the meeting.
Regional Hubs – now online
NACCOM is committed to seeing an end to asylum and migrant destitution and part of the way we do this is to share our ideas, support one another and develop best practice. Our hubs are a great opportunity to find out more about the diverse range of NACCOM members' accommodation projects as well as other exciting initiatives.
Our hub meetings are now conducted by Zoom, and take place twice a year per region. The next round of hub meetings are due to take place in Autumn 2020. Please check back again soon for confirmed dates.
Thematic hubs – now online
Following feedback from members, we have launched a series of 'thematic' hub meetings to explore the specific issues facing different types of accommodation project and drop-in services in the network, as we transition out of the pandemic.
The first meetings took place in June 2020, and focused on:
Housing projects
Hosting projects
Night shelters
Drop-in services
The intention of the thematic hub meetings is to have an open and honest discussion on the "what-ifs" and the key challenges facing members going forward, and for us to identify together areas where we might be able to help and support members in finding workable solutions.
Following the first series of meetings, we are hosting a follow-up meeting for Hosting projects (details below) and may facilitate additional follow-up meetings for the other accommodation types in the coming months.
Next thematic hub meeting:
Topic: Hosting Meeting
When: Wednesday, 5 August 2020 at 14:00 – 15:00
Time: Aug 5, 2020 2 – 3pm
For details of how to join the call, please email Paul Catterall.