See below for details of all our upcoming events and activities
---
NACCOM Annual Conference 2019
Join us for NACCOM's Annual Conference 2019 – Working Together To End Destitution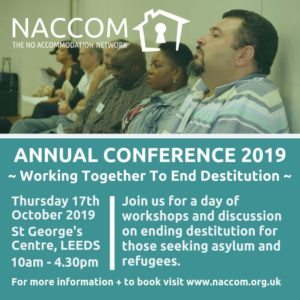 When: Thursday 17th October 2019
Where: St George's Centre, 60 Great George Street, Leeds, LS1 3DL
Times: 10am – 4.50pm
This one-day event will look at the ways that NACCOM members and partner organisations are working together across the UK to end destitution amongst those seeking asylum, refugees and other migrants with No Recourse to Public Funds (NRPF).
The event will give delegates the opportunity to meet and learn from NACCOOM member projects, as well as participate in a range of interactive workshops on the following topics:
Workshop 1 – Legal entitlements to Home Office support for people who have been refused asylum
Workshop 2 – Protecting staff and volunteers from burn out
Workshop 3 – Ensuring people who have experienced destitution have a meaningful say in developing your project
Workshop 4 – Key issues in developing a housing project – launching NACCOM's new Housing Toolkit
Workshop 5 – Getting involved with Asylum Guides feat. Refugee Action
Workshop 6 – Recruiting and retaining hosts
Workshop 7 – Innovative housing models – utilising new partnerships to maximise bed spaces and generate new income
Workshop 8 – Developing a national campaign to end destitution
Click here for tickets
Regional Hubs
NACCOM is committed to seeing an end to asylum and migrant destitution and part of the way we do this is to share our ideas, support one another and develop best practice. Our hubs are a great opportunity to find out more about the diverse range of NACCOM members' accommodation projects as well as other exciting initiatives. Find out when the next ones are in your region below:
London, South & South East 
Date: 4th  September
Location: London
Venue: JRS (Jesuit Refugee Services UK), Hurtado Jesuit Centre, 2 Chandler Street, London, E1W 2QT
Time: 11:30 (11:00 for coffee) to 4pm
Contact Paul for more details
North East & Scotland
Date: 11th September
Location: Stockton-on-Tees
Venue: Red Cross Office, Victoria House, Pearson Way, Thornaby, Stockton-on-Tees TS17 6PT (If travelling by train do not book to Stockton Station but Thornaby-on-Tees)
Time:11:30 (11:00 for coffee) to 4pm
Details of the event:
Hilary Hodgson the North East Service manager for the Red Cross is going to do a presentation about the Ariadne Lottery Funded project, a partnership between four refugee & asylum charities on Teesside including Open Door North East. The project has secured £500,000 over 4 years to bridge gaps and improve service provision to clients including welcome & orientation, legal provision, housing, move on and good data capture.
Contact Paul for more details
West Midlands
Date: 13th November
Location: Birmingham
Venue: Hope Projects, c/o Jericho Trust, 196-198 Edward Street, Balsall Heath, B12 9LX.
Time: 11:30 (11:00 for coffee) to 4pm
Details of the event: More details coming soon
Contact Dave for further information.
North West
Date: Tuesday November 5th
Location: Manchester
Venue: The Boaz Trust, Kath Locke Centre, 123 Moss Lane East, Manchester, M15 5DD.
Time: 11:30 (11:00 for coffee) to 4pm
Details of the event: More details coming soon. 
Contact Dave for further information.