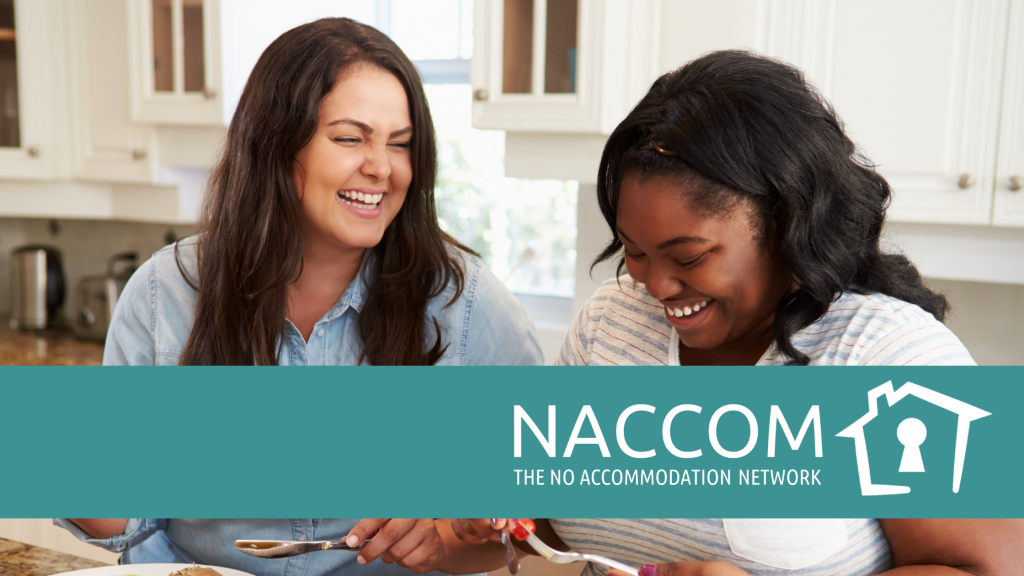 Are you interested in hosting? Do you have a spare room that you could offer to someone in the asylum system who would otherwise be homeless?  
If so,  please fill out the below enquiry form and we will connect you with a hosting project in our membership network, based on current need and your location in the UK.  Please only fill out the form if you are based in or near one of the areas listed further down this page. 
Please note that NACCOM does not run a hosting scheme. We will share the information you provide* via the enquiry form with relevant hosting projects in our network (local or national members), who will then have the option of making direct contact with you to discuss in more detail their hosting project, their current needs and if appropriate take you through their own recruitment process.  
(*Please also note that your data will be shared only for this purpose and NACCOM will keep your information in accordance with our Privacy Policy. NACCOM will only hold your data for six months to facilitate any questions from you about your original hosting enquiry. We will require members in our network to confirm that they will only contact you to discuss your hosting enquiry and will not use your data for any other purpose or keep your data should they not contact you to discuss hosting.)  
If you would still like to register your interest in hosting but would not be comfortable for your information to be shared in this way, please email us at [email protected] . 
What you need to know about hosting
It is important to note that hosting is not for everyone, and each project will have its own assessment criteria, including geographical reach and the project's current capacity to support both you as a host and any prospective guest placed with you.   
Where are hosts currently needed?
The following towns and cities are currently in need of more hosts;
 London and the South 

London, Canterbury, Oxford, Thames Valley (towns in Berkshire and Buckinghamshire), Reading, Southend, Milton Keynes
Midlands 

Birmingham, Derby, Nottingham, Newark, Wolverhampton 
North West 

Burnley, Liverpool, Manchester, Preston, Wirral 
Yorkshire and Humberside 

Bradford, Halifax, Huddersfield, Hull, Leeds, Sheffield, Wakefield  
North East 

Gateshead, Middlesbrough, Newcastle Upon Tyne, Stockton-on-Tees, Sunderland, Tyneside, Teesside, Wearside 
Wales 

Cardiff, Newport, Swansea, Wrexham 
If you are located in any of the above areas and are interested in hosting, please fill in the hosting enquiry form above.
National hosting projects 
Some NACCOM members run national hosting projects, and recruit hosts across the UK. There are also a number of smaller local projects running their own schemes or in partnership with Refugees at Home.  
Refugees at Home – at present they are only accepting host applications for the following cities – London, Sheffield, Manchester, Liverpool, Cardiff, Glasgow, Birmingham, Bristol, Canterbury. Although this may change in the near future.  
Hope at Home, who work with victims of modern slavery and trafficking who are seeking asylum. They have specific areas where demand for hosts is higher such as London, Bristol, Sheffield, Surrey, West Yorkshire, Hull, Newark, Wirral and Preston.  
Hosting people from Afghanistan
The crisis in Afghanistan has prompted a surge in interest from people who would like to offer a spare room to Afghan nationals in need of refugee protection in the UK.  Please note that there are currently very few Afghans in the UK who are in need of hosting placements at the current time, because those being resettled by the UK government are receiving statutory support, initially in hotels and other forms of temporary accommodation, before they are offered settled accommodation in towns and cities across the UK. In future weeks and months however, the situation could change, with the likelihood of more Afghan nationals arriving in the UK by other, irregular routes.  
In relation to this, it is important to note that NACCOM member projects do not make placements based on any stated preference the host has  regarding the nationality of their guest.  
Hosting projects exist to serve all who find themselves facing homelessness and destitution during the asylum process, whatever their background or nationality, and places are allocated based on need above all else. Last year, the 25 hosting projects across the network collectively accommodated 986 people, from a range of different countries.
How else can you help 
With the Government's new Nationality and Borders Bill currently passing through Parliament, which seeks to make the UK a much less welcoming place for people in urgent need of refugee protection, how we treat refugees and people seeking asylum matters more than ever. 
Whilst hosting is a fantastic way of supporting people in the asylum system experiencing homelessness and destitution, there are lots of other ways that you can help if hosting isn't an option. 
➡️ Offer your support to a refugee charity near you: 
NACCOM has over 140 members around the UK who support refugees in different ways, and who need volunteers, fundraisers, and donations of clothes and food. 
Use our members map to connect to a charity in your area to offer your support.