In our BBC Radio 4 appeal you will hear from Yasmin, who now has refugee status in the UK. Yasmin was forced to endure homelessness and destitution whilst her asylum claim was being considered. Like the majority of people who seek refugee protection in the UK, Yasmin was not permitted to work or provide for herself as she sought asylum, and her immigration status prevented her from accessing vital services such as homelessness assistance when she needed it most.
Yasmin's story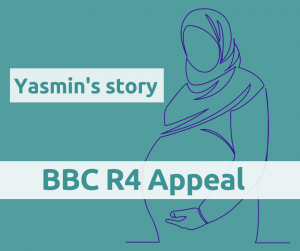 Yasmin is from Pakistan and fled her home country, along with her husband, to escape abuse. Not long after coming to the UK, Yasmin's marriage broke down, and when her asylum claim was initially rejected and her Home Office support withdrawn, she was left with nowhere to go. She was five months pregnant at the time.  
Yasmin was in a desperate situation; "I had no home, no money, no family, no relation, nothing. I can't even rent myself a place for a night. I didn't even know if I could sleep outside of a church or a bus stop."
Yasmin was then connected to a local charity, a member of the No Accommodation Network, but before they could assist her, she was suddenly detained and served with a deportation order and sent to Yarl's Wood detention centre. Yasmin lost all hope that she would stay in the UK, and she was terrified that if she returned to Pakistan, she and her baby would be put at risk.  
Behind the scenes, the charity was working hard with immigration lawyers to secure Yasmin an emergency injunction, which was granted at the very last minute, just as she was boarding the deportation flight. Yasmin was released from detention and left at a local station with nothing but two bin liners full of clothes.  
Yasmin was offered an emergency hosting placement in the home of a local family, Brian, Anne and their children. At first, Yasmin was nervous about staying in a stranger's home. "He [Brian] could see that I'm really scared, so he took out his wallet and showed me a picture of his daughters, his family. It made me feel less afraid. I was really touched by that. I thought – I'm a total stranger, from a very different background, you don't know anything about me and you're still helping me."
Yasmin's hosts treated her like part of the family, and having a safe space meant that she was able to rest and begin recovering from her detention trauma in a secure and stable environment. She also gained confidence by going with her host family on public transport and shopping, and to her antenatal and ' solicitor's appointments, so that Yasmin could take vital steps to progress her asylum claim.  
"I loved the way they made me feel like part of the family. It was so good, just being in that house and living with them, I felt relaxed and calm. Because I was pregnant I was exhausted all the time. I had some time to relax and sleep at night – somewhere where I'm not scared of anything."
Yasmin's situation was still precarious though. "Until I got my leave to remain, I still lived in fear. Every time they used to reject my case, it made me feel scared again. It was hard, but then I had my son and after that my life changed. e, I thought I have to live for him, make a life for him and he deserves all the happiness and love from this world. I am a mum now, and I have to fight. Now I do everything for my son."
Yasmin was finally refugee status, and after years of volunteering and training, she qualified as a teaching assistant, a job she loves. She is now able to provide a safe and loving home for her young son. "I'm happy that people see I'm a really hard-working person. I'm really thankful and proud to call myself a teaching assistant, to work with children. That is something that my son can look up to and say "I want to be like my mum", something for him to believe in, after all the hard work and lots of struggle."