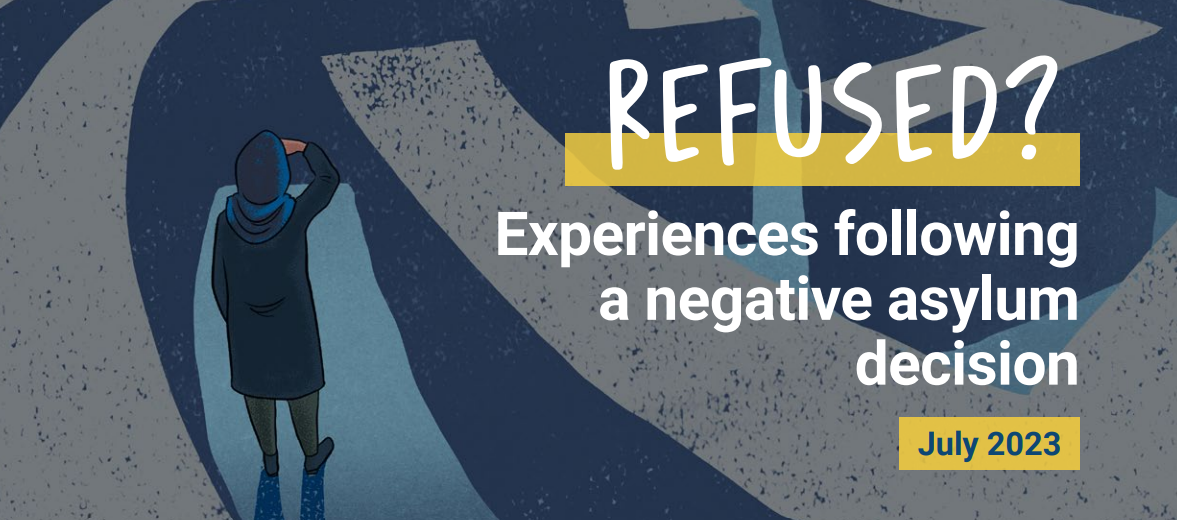 New NACCOM report reveals trauma and hardship faced by people who receive a negative asylum decision
Introduction
New research published today (17th July) by NACCOM shows that people who are refused asylum in the UK, in many cases unjustly, can face extreme hardship, including destitution, homelessness and declining physical and mental health, following a negative decision on their asylum claim.
The research report – Refused? Experiences following a negative asylum decision – has been designed, led and delivered by NACCOM's volunteer Community Researchers, Anum Ahmed, Geo, Kas, Nico, Afshan, and previously, J.A., who all have lived experienced of destitution and immigration control. It draws on 27 in-depth interviews with service users in the NACCOM network and contains powerful qualitative findings that explore the devastating personal impact and trauma that can follow a negative asylum decision. The report also outlines the systemic and practical barriers that people face, which can prevent them from going on to resolve their immigration status after an initial refusal.
It provides a vital insight into the human impact of poor and ineffective asylum decision-making and processes at a time when the Government is facing mounting pressure and scrutiny about its handling of the asylum system.
Nico, a Community Researcher, said: "It is vital that our voices, as people with lived experience, are heard and considered when policy is made which impacts the lives of refugees and asylum seekers. This research provides that voice and demonstrates the urgent need for change to the asylum system."

Bridget Young, NACCOM's Director, explained: "The process for claiming asylum in the UK is complex and open to injustice on many levels. Although more than half of asylum applications made in the UK in recent years have resulted in the granting of refugee status, not everybody is given the protection they are entitled to on a first attempt. This can be for a variety of reasons, such as complications with evidence, restricted access to legal advice, or problems engaging with Home Office systems."
The report comes at a time when tens of thousands more people could face homelessness and destitution if the Government's 'Illegal Migration Bill' passes – a move that would see the claims of refugees arriving by so-called 'irregular' routes deemed as 'inadmissible' – effectively banning them from claiming asylum before they've had a chance to make their case.
Bridget continued: "It's vitally important that we understand how people cope after receiving a negative decision, and what can be done to ensure they are best supported, to meet their immediate needs but also to resolve their immigration status. This is of particular concern as the Government forges ahead with the Illegal Migration Bill, which looks set to put thousands more people claiming asylum at risk of destitution and homelessness, and the trauma, hardship and indignity that entails."
Key findings
The report outlines the research participants' experiences of dealing with multiple barriers and challenges following a negative asylum decision in six key areas:
1, People generally did not understand the system when they first claimed asylum, and did not know what to do after a negative decision.
2, People generally did not know that there are charities providing support after a negative decision, and often spent months or years sofa surfing or sleeping rough before finding charity accommodation.
3, People generally faced issues having their evidence believed, and faced new challenges when asked to present new evidence for a fresh claim.
4, People generally were locked out of good-quality legal support after an initial negative decision, and many mentioned having bad experiences of free legal aid when launching an appeal or fresh claim.
5, People generally reported worsening physical and mental health due to long periods of homelessness and having no recourse to public funds (NRPF), which were barriers to making the most of the support available.
6, People generally accessed accommodation first, but wrap-around services, which also offer legal support and destitution payments, appear to be most effective for helping people to proceed their case.
Key recommendations
The report builds on evidence and experience of service users, and the organisations that support them, to provide recommendations on how the voluntary sector can develop more inclusive and effective services for people with restricted or no recourse to public funds, including those who have received a negative decision on their asylum claim.
Although the current Government's proposals under the Illegal Migration Bill look set to drastically reform the workings of the asylum system, learnings and reflections from the research will be relevant to meeting the new, additional, pressure on statutory and non-statutory services produced by the changes.
The report also presents a set of clear policy recommendations for what a compassionate and competent asylum system needs in order to function fairly, efficiently and humanely.
Amongst the comprehensive series of recommendations are;
Introduce a process to help people understand the asylum system at the point at which they claim asylum.
Extend the period following an asylum decision before asylum support is stopped to 56 days.
Introduce an obligation on the Home Office to refer people who have received a refusal to Local Authority homelessness teams (a duty to refer).
Ensure that all people seeking asylum in the UK are able to obtain good quality legal help and representation, and can uphold their rights and access justice, through significant reform to legal aid.