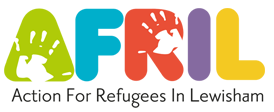 Action for Refugees in Lewisham (AFRIL) was set up in 2006 to reduce the poverty of local refugees and asylum-seekers, advance their education and raise awareness about refugees rights and needs. Services include advice in welfare benefits, housing, education, employment, health and immigration, a supplementary Saturday School for children aged 4-11 and a foodbank for destitute asylum-seekers and refugees.
Contact: Sophie Wickham
Phone: 0208 297 4111
Email: [email protected]
Please note the pin does not reflect the accurate location of the project.