[button link="https://naccom.org.uk/wp-content/uploads/2019/10/NACCOM-ImpactReport_2019-10-11_DIGITAL.pdf" bg_color="#3d9293″]DOWNLOAD OUR 2018 – 2019 IMPACT REPORT[/button]
Hazel Williams, NACCOM's National Director, introduces our latest Impact Report and outlines how NACCOM has made an impact this year.
"This is the second Impact Report that I have had the pleasure of putting together, and I continue to be in awe of the tenacity and commitment of our mostly grassroots member organisations.
"Despite the turbulent political times we are in, it's incredibly inspiring to see people taking action with such great humanity, rather than just talking about it."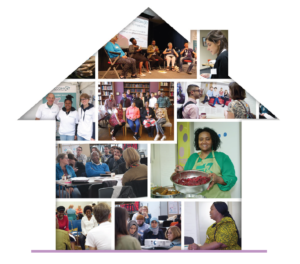 "It's been a busy year for us here at NACCOM. As a team and as an organisation, we have continued to grow and change. Two staff members (Angela Stapley and Lucy Smith) went on maternity leave, and we recruited Diane Balsillie (Operations Coordinator) and Jessie Seal (Campaigns and Policy Coordinator) as maternity cover. We have also increased our capacity in the areas of communications and advocacy, by creating two separate job roles from what was previously one role, in the process welcoming Hannah Gurnham as our new Communications Coordinator. This change brings us up to six staff members, and enables us to work more effectively to support members and achieve our strategic goals.
"We have also seen further growth in our membership over the last year, and are pleased to have welcomed our 100th member. Such a significant milestone is testament to the growing strength, diversity and reach of our network, but as always the need for such a great number of projects tackling destitution is an indictment of the hostile environment.
"Policy and campaigning has been a priority for us throughout the year. Our members hold a rich and unique body of evidence about destitution, which no else can provide, and it's only because of this evidence that we are able to lobby for changes to reduce destitution. With this invaluable data from our members, we launched two reports this year, one about access to legal advice Tipping the Scales – Access to Justice in the Asylum System, produced jointly with Refugee Action, and Mind the Gap – One Year On, looking further at refugee homelessness. We also continue to lobby in Parliament and directly with the Home Office to implement the recommendations in these reports.
"This year we ran a very successful residential around community reporting, training 12 people with experience of the asylum system and being destitute, in how to record and collect stories. Some of the group and others have also been able to attend key Home Office and parliamentary meetings to share their experiences directly with the people who write the policies affecting them.
"Our other key priority is supporting members, and in May we launched our Funding Toolkit and ran two funding skills and information days for members, to facilitate sharing and learning around funding to increase members' income. Our new Housing Toolkit was also launched at this year's Annual Conference in Leeds.
"Turning to this year's member survey results, we see that the number of nights of accommodation provided by members across the network has gone up, yet the number of people accommodated has stayed roughly the same for people who have been refused asylum. We have also seen a drop in positive move on from 69% to 53%. These worrying statistics suggest that people are staying in the accommodation provided by our members for longer periods of time, most probably as they are unable to move on. This highlights the need for access to legal advice and quicker decision-making from the Home Office on support and accommodation applications. These will both be key campaign and policy issues that NACCOM will focus on in the coming year.
"I want to take this opportunity to say a huge thank you to our staff, trustees and members for their hard work and dedication this year, to our funders for making our vital work a reality, and to our partners and supporters for helping extend the breadth and reach of our work. Lastly, I would like to thank all those who are engaged with the services across our network – whether seeking asylum or granted status – for sharing their stories with us.
"Whilst the current political volatility surrounding Brexit presents great uncertainly for everyone working in the sector, there may also be opportunities to lobby for real change, and we look forward to the year ahead and raising our collective voice to end destitution."
[button link="https://naccom.org.uk/wp-content/uploads/2019/10/NACCOM-ImpactReport_2019-10-11_DIGITAL.pdf" bg_color="#3D9293″]DOWNLOAD OUR 2018 – 2019 IMPACT REPORT [/button]