Safe in Scotland has been preventing homelessness among asylum seekers since 2011. In the below guest blog, we hear how the charity – formerly Glasgow Night Shelter for Destitute Asylum Seekers – has remodelled their housing provision and services to respond to the changing needs of their guests.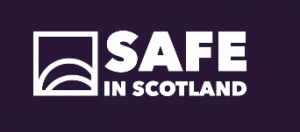 When we formed—as Glasgow Night Shelter for Destitute Asylum Seekers—it was as an urgent intervention. We saw first-hand how the hostile environment policies placed people seeking asylum on a structural and deliberate cliff edge, with no access to homelessness service, no right to work, and no recourse to support or funding. Like so many NACCOM members, our answer to this inhumanity was in applied activism — providing somewhere warm and safe for those facing destiution as a result of Home Office policies. 
This initial provision, located in a church hall and open from 8pm to 8am, provided hot meals and somewhere to stay overnight for men facing asylum related destitution. We are proud of this immediate action — but the lack of structure and fixed safety provisions increasingly caused concern.
We knew our guests needed more than a traditional night shelter model could offer and so we sought a more appropriate and sustainable solution. Perhaps following our lead, Scotland agreed to phase out night shelters so we were pleased to be prepared. In 2019, we began a radical transformation from a basic overnight shelter to a 24/7 trauma-informed human rights centre. Through a partnership with a local housing association who provide premises on a peppercorn rent, Safe in Scotland can now accommodate 17 guests where they can immediately access dignified private accommodation; time, space and personalised support to explore their rights; and access to services to improve their wellbeing. 
With this transformation came a need to rebrand and rename our organisation. The Glasgow Night Shelter name was both inaccurate and a misrepresentation of our goals. We chose to rebrand as Safe in Scotland as a declaration of the future we want. This strategic communications work allowed us to clearly articulate our long term vision and our evolving place in the sector. Not just as a frontline service provider but as an organisation with an expansive remit and broadened ambition. 
We are working towards our own obsolescence. While we provide a place of safety 365 nights/year for over a hundred people each year, we are working to end destitution by design as part of the Everyone Home Collective. We are working towards a prevention pathway where everyone has access to accommodation that is safe and secure, which provides peace of mind and upholds the principles of dignity and privacy. 
Our long term vision is clear. We see a future where everyone has personal access to food, medicine, sanitary and washing facilities. Everyone has a personal digital device to stay in touch with social networks and services, with access to electricity to charge devices. Everyone has specialist advice, advocacy and support which is relevant to their circumstances. Regardless of the immigration status. 
This work requires national support from the sector and the public. We need communities to stand up for those who are silenced and demand a human rights response to this crisis and we are grateful for the NACCOM community to work with in solidarity.
For more information about Safe in Scotland's work, please visit safeinscotland.com.