'The Movement' is a feature length film telling stories of voluntary rescuers who have stepped in where governments have held back in the ongoing 'refugee crisis'. With footage from the Mediterranean, Paris, Rome, and Greece, the film was produced by Sharon Walia, a journalist and refugee worker at Nottingham Arimathea Trust (a longstanding NACCOM member organisation). Below Sharon shares her journey with the documentary.
Watch the trailer here: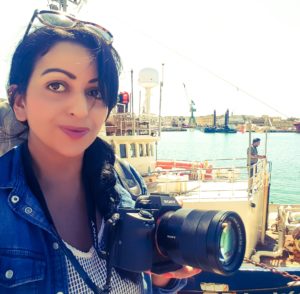 What prompted you to make the film?
I'm a refugee worker and journalist based in Nottingham and I've worked with asylum seekers and refugees for around 12 years. Then, a few years ago I did an MA in TV Journalism. After this I secured a full-time reporting job and began making refugee pieces.
I soon realised that there was a huge movement of normal people who give up their free time to help people fleeing persecution. I wanted to showcase these stories and in doing so make the refugee situation more accessible.
No one has ever delved into the stories of voluntary rescuers and the NGO refugee boats so I saw a real untouched area.
You wanted to get across stories of 'everyday heroes'. How did you find the voluntary rescuers that you went on to film?
I met Brendan Woodhouse (a firefighter based in Nottinghamshire) twice while doing local news reports when he arrived back from rescuing refugees in Lesvos, then off the coast of Libya on the Sea-Watch ship. I looked up Sea-Watch and joined Brendan out on a 3-week mission in April 2017. It all snowballed from there.
I later joined Brendan and another volunteer Amy Sunshine on an aid run to Paris. Through them I met Heather Young and Rosie Browning from an organisation called Paris Refugee Ground Support. They work all throughout winter (even Christmas Day) to hand out blankets, tents and food to refugees sleeping on the streets.
I then met Dan Teuma – who also knows Brendan- and runs a charity called Aniko in Greece helping refugees rehabilitate through football.
When I pitched my documentary to these characters and explained I wanted to show the refugee crisis through their eyes, the response was amazing. I couldn't have made this film without them.
You shot the documentary entirely on your own and secured theatrical distribution nationwide. To achieve this can't have been easy. What were some of the challenges you faced and do you have any advice or learning to share?
What I learnt was that if you have passion and a compelling story to tell, it is possible to make a theatrical film in a non-traditional way. Documentary making and film-making in general is somewhat elitist. There is funding out there – but it's difficult to get money if you're a first time filmmaker.
My advice to other people wanting to make films is don't wait for someone else to tell you how to do it. Trust your instincts, nurture your contacts and if it is good enough it will get picked up.
The film asks the question 'What drives ordinary people to extraordinary lengths to save refugees?'. Was there a key message you wanted to convey?
As the European Union is shutting its borders and increasingly ignoring the refugee issue, and we see the growth of far right groups and governments across the globe, it is more important than ever to report the refugee crisis in a different way.
The last chapter of the film is called 'A Collective Solution' where I ask the main characters how we can attempt to solve the refugee crisis. All of them said that the crisis could be eased by introducing asylum reception centres and safe legal passages.
This is so asylum seekers can have their claims dealt with in a safe environment so they aren't forced to go to transit countries like Libya and make dangerous sea crossings on smuggler owned rubber boats.
There is also mention of having a Europe wide policy – so each country accepts their fair share of refugees. At present most EU countries are shutting their borders – and more recently the likes of Italy and Malta are stopping refugee rescue boats from entering the ports.
Lord Alfred Dubs who is in the film also said that we need to look at the root causes and assist countries economically which produce the most refugees.
The film will hopefully be a wake-up call to the fact that ordinary people are picking up the slack where governments are stepping back and abandoning refugees.
What similarities and differences do you see in voluntary sector responses to refugees overseas and in the UK?
As the Housing Manager at Nottingham Arimathea Trust (a role I've held since May 2017), I see a similar response from grassroots organisations and people in the UK as well as abroad.
In terms of differences, I'd say that the volunteers I filmed on the continent are seeing the immediacy of people's experiences and that first hand trauma of people fleeing conflict.
However, in the UK our response is just as important, providing stability and normality and helping people to get their lives back on track.
At Nottingham Arimathea Trust, we provide supported accommodation for refugees and destitute asylum seekers who are made homeless after their asylum claim is refused. We manage 20 properties across the area and we have a strong local community supporting our work.
In a similar way to the responses I saw in Paris and elsewhere, when we need donations for bedding or food, if ever we put a call out, we get a really positive response. There is a real willingness to help.
Where is the film being shown?
The film will be shown nationally on Thursday 15th November at Showcase Cinemas across the UK. You can buy tickets by following this link (pick the cinema of your choice from the drop down menu).
[button link="https://www.showcasecinemas.co.uk/film-info/the-movement#1V4efPwM1gkH1yA6.97″ bg_color="#139c9c" window="yes"]BUY TICKETS HERE TO SEE THE MOVEMENT[/button]