The Jesuit Refugee Service (JRS) UK accompany, serve and advocate on behalf of those currently detained in Immigration Removal Centres near Heathrow and those made destitute during the asylum process. Naomi Turner is the Communities of Hospitality Coordinator and oversees JRS UK's hosting scheme, 'At Home'. This week NACCOM caught up with Naomi to find out more about how it works.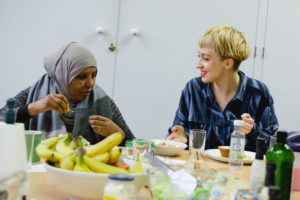 'The JRS At Home scheme matches destitute refugees with families, individuals, parishes and religious communities who are able and willing to offer accommodation for a three-month period. It has been in operation since 2012, although it has developed significantly since 2016.
We generally work with those who are appeal rights exhausted, for whom one of the greatest challenges is the lack of accommodation. Destitute refugees are often forced to seek respite on night buses, rely on friends who might host them for a night or two, or else find a nook where they can bed down for the night.
In response, we have the JRS At Home scheme, although we are also looking for other ways to help our refugee friends in need of housing in the future.
I work full-time as the coordinator of the scheme. Around a third of my time is spent outside of the office visiting guests and hosts, I also see our refugee friends at our day centre, and do other bits such as organising meetings, contributing to communications, and casework for guests. It's a varied job!
The biggest challenge is that we see such a great need for hosting placements, and we unfortunately aren't able to meet all that need. When it comes to recruiting hosts, I often find that word of mouth is the most successful way, and some of our current hosts have heard of us through outreach talks that we have done at parishes and group meetings.
Last month we ran an open evening, which was our second of this kind. My colleague Nick, our Community Outreach Officer, and myself spoke about the work of JRS and then we had two of our current hosts speak about their experiences- I think that this is very reassuring and helpful for potential hosts. We plan to hold two open evenings a year- one in spring and one in autumn.
We currently have fifteen guests being hosted, all in London. One of our guests, a young man, was having a terrible time last year, being street homeless for months. He was exhausted and desperate whenever I saw him, and I was constantly trying to find him a hosting placement. When we finally had a place available, it was wonderful to see him after he had been sleeping inside for a few days. When I asked how he was, he simply replied 'I'm different'. I could see it in his face, it was so heartening to see the effect a few days of adequate accommodation and a warm welcome could have.'
Find out more about the work of JRS UK here.
Interested in knowing more about how hosting works? Come along to our free one-day hosting convention on 13th July. See here for tickets and full info.