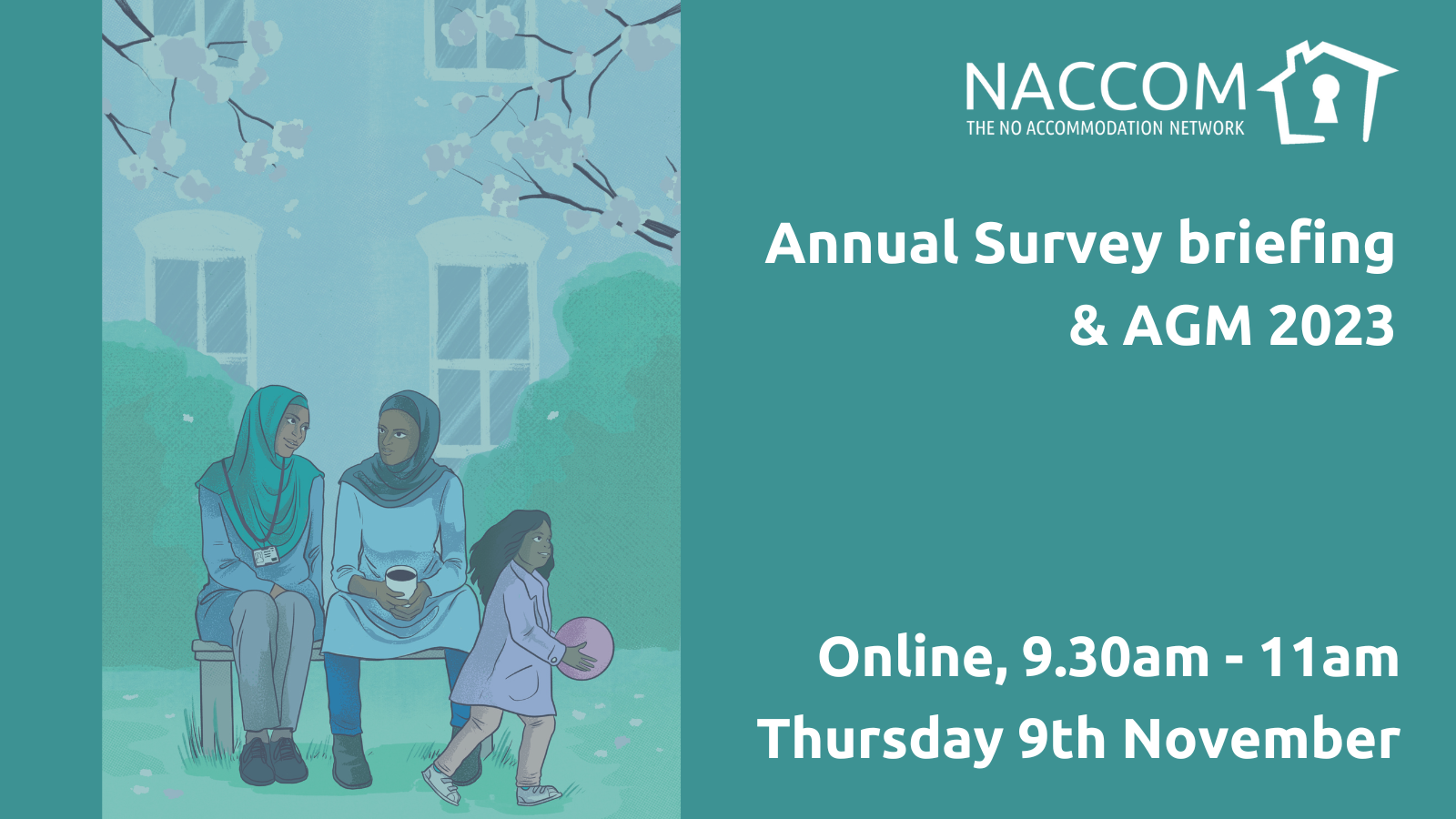 About the event
Each year, NACCOM's Annual Survey paints a picture of the scale and impact of destitution across the NACCOM network over the last 12 months, and how frontline organisations in the UK are responding. The data we capture from our members about the services they have provided, and the people they have supported, during the past year highlights the growing complexity of destitution and homelessness experienced by people in the asylum and wider immigration system, and the voluntary sector's vital role in providing support pathways.  
At this event you will gain insights into NACCOM members' work this year through the launch of this year's Annual Survey data, which gives a comprehensive picture of experiences of – and frontline responses to – destitution in the asylum and immigration system. We'll also be highlighting NACCOM's key achievements in strengthening members' practice and influence, and how our collective work is making the case for short- and long-term systemic and policy change.
The event will close with a short AGM, and an opportunity for NACCOM's Full Members to vote in members of our Board of Trustees.
The event will include:
➡️ An overview of the key data and themes that have emerged from this year's annual member survey
➡️ Highlights of our collective work to #EndDestitution and how we have worked with members this year to make an impact
➡️ A summary of our annual report and accounts
➡️ An opportunity to vote for NACCOM Trustees (Full members only – further information will be given to Full Members who attend)
Please see the full agenda with timings below.
_____________________________________________________________
Event details:
What: NACCOM Annual Survey Briefing and AGM 2023
When: Thursday 9th November 2023
Where: Online (Zoom)
Start time: 9.30am
End time: 11am
____________________________________________________________
Full agenda:
09.30 – 09.40 Welcome and opening remarks (Bridget Young, Director, NACCOM)
09.40 – 10.20 Annual Survey 2023 results (NACCOM team)
10.20 – 10.35 NACCOM Annual General Meeting (Caron Boulghassoul, Chair of Trustees, NACCOM)
10.35 – 10.55 Q&A on Annual Survey 2023 results and AGM matters (NACCOM trustees and team)
10.55 – 11.00 Close
_____________________________________________________________
This is a free event. Please register for your ticket via the Eventbrite link below.
If you have any queries before or after booking, please contact NACCOM via email: [email protected].