This month's Member Spotlight comes from Constance Nash. As an individual NACCOM member, she has been a volunteer with another NACCOM member, Refugees at Home, and the coordinator of a local refugee support group in Dorking, since 2015. As Constance enjoys encouraging others to get involved in hosting and support as well as providing accommodation herself, she was nominated for the Independent's 'Happy List 2018', a list of 50 people who 'make Britain a better place'. So to kick off the new year, we got in touch to hear more about the group she's part of and what inspires her about hosting.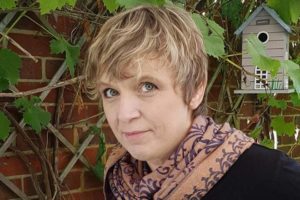 When did the Dorking group start, and what motivated you to start hosting?
Dorking Refugee Support started in July 2015, initially to collect aid for Syrian refugees abroad. Like many people, we couldn't just do nothing. Then, things evolved over time and we have adapted our response as a local group.
Hosting has been part of this, and after being shocked at how much destitution and fear was hitting asylum seekers and refugees here in the UK, I joined Refugees at Home and started hosting 3 years ago.
We have gradually built our 'hub' into a network of 10 residents (all volunteering for Refugees at Home). We organised it so we could help each other out and be able to take over from each other if someone had to stop hosting for a while, like for a holiday, or in case the guest was stranded long term. This allows guests to stay in the same town and avoid strains on the relationship.
As a local group, we go beyond just hosting, and help guests like a family would help their members: chip in hardship money, teach English, offer counselling, training and jobs. Most importantly, we know and respect the guests as equals and feel genuine friendship towards them. 
We are trying to set up a structure to fundraise officially so we can offer more. But we want to stay "informal", small, and spontaneous as a group, because this is what feels right and doesn't lose sight of each person individually.
What have you learnt through hosting, and why do you encourage others to do the same?
Hosting is a lot easier and safer than people initially think. The main thing is to offer safety, privacy, access (to washing machine, WiFi etc) AND, crucially, respect. It doesn't have to be a palace, no need for daily sitting down meals, or daily socialising as we imagine it. Most guests are very autonomous, cook in their own time, keep to themselves in a polite discreet way.
We keep in mind that they arrive to us exhausted, and under severe stress (even if they hide it very well out of consideration for us). My sons and I have welcomed 22 people so far over 3 years, some for a few days, some for over 6 months. 
When you start off, you may feel pleased with "doing your bit", feeling you are doing a nice charitable thing. And that is OK, that is human. But soon you realise it is not about that at all: you meet people who are mums, dads, students, sons, fellow lovers of coffee or old movies… you stop seeing them as refugees and start seeing them as individuals.
The anonymous feeling of "charity" turns (often within minutes) into spontaneous, personal solidarity. That completely changes your relationship to your home space, how safe it is, your awareness of the world, how real it is, your relationship with human rights, with freedom, how worth fighting for it is. 
It has to be said: hosting can be emotionally demanding, and as a host, you often experience frustration and powerlessness towards the UK asylum "system". Hosts can get affected by that sometimes and have to stop for a while. That is completely understandable, and it is why having a hub and network is so important: we take turns, no one has to feel bad if they stop hosting for a while.
I personally cannot imagine not hosting now: it is really not that a "big deal" materially for us, and it has allowed me and my sons to meet people who opened our views. Many of them are family to us now. I thank my lucky stars I bumped into Refugees at Home. 
What are some of the challenges that refugees you support can come across and how does the group help?
The biggest challenge for asylum seekers is the "status limbo": they can't get "in", they can't go back, they can't work, and they don't know for how long this will go on. That causes phenomenal distress, even to the strongest, smartest person. Not feeling heard or believed, not finding legal aid because of the cuts, not having recourse to public funds, all that further wears them down. English language levels, social isolation, separation from their family adds to the stress as well. We try to help alleviate those as best we can, as hosts.
When guests get their refugee status, other challenges face them: opening a bank account, finding a job when your English is still limited, and saving enough for a deposit on rented accommodation being the main ones in our experience.
Hosts and volunteers pool efforts to get them training, job interviews, and often continue to host for a transition period, until the guests have something on their CV, a few reference letters, and enough saved to rent privately. 
One former guest is moving back to Dorking, and is earning minimum wage now. His first request was to give back some money to our group to help the next newcomers…
How did you find out you'd been nominated for the Independent Happy List 2018, and what did you think when you heard?
My son got contacted about it and asked me for a mug picture, saying some fellow volunteers had nominated me and I was now on a shortlist. I felt very moved that they thought of me, but also very shy about it. There are hundreds of people hosting, some hosts I know are nothing short of extraordinary, so why me, not them? The only difference maybe is the research I do for the group, and the fact that I can't… shut up about hosting.  I chewed the ear off so many people at events and talks that I guess I got a few of them to join that way (possibly just so that I stop talking!). 
After that nothing happened for a while, I assumed I was not on the list and completely forgot about it. Then I saw it online recently and (apart from getting crimson red when I saw my name) I thought it was all good if it helped spread the word around, and happily surprised to see that hosting refugees was considered a good thing for the UK. Like hundreds of other hosts around in the country, I certainly believe that. 
Find out about other NACCOM members by using our Project Directory and to register interest in hosting with an existing scheme please use our Happy To Host enquiry form. To find out more about Refugees at Home, visit here.