New Neighbours Together (NNT) became the 100th member in our network in July 2019. The hosting charity, which is based in Burnley in the North West, has been in existence for just over three years. It is staffed entirely by volunteers, and was set up by Ruth Haygarth in response to an appeal by the local authority for voluntary organisations to undertake a support project for newly-arrived sanctuary seekers in the Burnley area.
The North West dispersal area has the largest number of people seeking asylum in the UK, with 10,582 asylum seekers in Section 95 accommodation at the end of March 2019 – nearly double the number of any other region. In recent years NACCOM has seen particular growth in the range and diversity of projects in the region set up to support destitute people seeking asylum.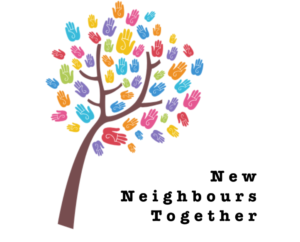 Ruth says: "We began by helping three households of newly-arrived sanctuary seekers, and a passionate commitment to be "good neighbours" – to welcome and to "walk the road" with those people who came to our doors. We are now involved with between 30-40 households and regularly welcome 60-70 attendees to our main weekly drop-in session."
Additional services and support offered through the drop-in include advocacy, ESOL classes, access to clothing and essential goods, social and cohesion activities, a befriending service, plus a women's group, and the hope is to expand the services further into a wide-reaching hosting scheme.
Ruth adds: "In our first year as a NACCOM member we intend to develop the assistance and help we are able to give to people facing destitution – short- and long-term. This means we have policies to write, volunteer education to deliver, extra resources and local support to locate and, crucially, we are just about to become involved in our first hosting arrangement, so we need to draw on the experience of those who have done it before via the NACCOM network. We are a small volunteer-led charity and we need to work in partnership with bigger and more experienced charities for the benefit of our clients. Additionally, we would like to put our shoulders to the wheel of campaigning for a better and more compassionate system of asylum, and feel we can do this more effectively as part of a network."
For more information about New Neighbours Together please get in touch with them.