Home4U is an accommodation project in Cardiff and each year they organise a sleep out to raise awareness and funds for their work. Below we find out more about their work and how the event went this year.
Home4U accommodates people who have had their accommodation and subsistence withdrawn after their asylum claim is turned down. At this point, they are left to exist on nothing. Later, often with assistance, many prove their case for protection. Of the 38 people that were supported by Home4U since the charity started (not including those currently in their accommodation), 50% (19) have now got the right to remain, and some others are awaiting decisions on fresh claims.
In the meantime, Home4U provides short term accommodation and a small weekly allowance. Properties are lent to the charity freely and Home4U cover the running costs, and the housing accommodates 4-5 destitute asylum seekers at a time.
Over the last decade, since the project began, the team have organised a sponsored sleep-out to raise awareness and funds for the housing project. Saturday 13th October was the date for this year's event, and Sister Ruth O'Neill has provided a short write up of what happened: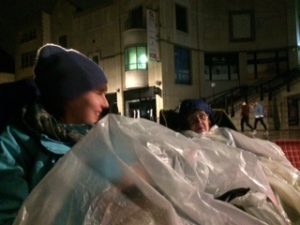 'Well…! This year, threatened by Storm Callum, the Home4U Sleepout was nearly a washout!
Throughout Friday it looked unlikely that we would be able to go ahead. By Saturday afternoon we decided that it seemed possible.
Rain was forecast for 6pm but in fact we had a dry start at 7.00pm and it was exceptionally warm with a light wind that dried the ground perfectly. We were able to set up and passers-by were keen to stop and chat with us. There were lots of people around, probably glad to be able to walk about without battling the weather.
At about 10.30pm, as it started to get a bit colder we had a very welcome visitor with hot soup. Our residents turned up to support us even though we hadn't sent the usual reminders because we were so uncertain. The rain didn't come until about 1.30am- but we'd had a gift of twelve plastic ponchos which proved a fantastic gift.
It's interesting what is attractive to some people, and it looks like we might have a couple of new volunteers to the team or for the Drop-in from those who took an interest in what we were doing.
Homeless individuals, as usual, showed their concern and interest too, one man joining us for the entire period feeling much safer with us than the other options available to him.
By 4am we were very wet and moved to the shelter of a Church which supports us each year by giving us the key so that we can access toilets and a kitchenette. Three of us slept most of the last hour safe inside its porchway.
Arriving home a little earlier than usual, I was asleep by 7.30am and managed a couple of hours before going to Church. Had a great sleep again in the afternoon and on Sunday night! That's it for 2018!'