Today (28th September) we're delighted to share with you our 2019 – 2020 Impact Report; an opportunity to learn more about NACCOM's work over the past year – our successes, the challenges we've faced, and the incredible impact of the 125 member organisations in the network, as we collectively work towards an end to destitution in the UK for people seeking asylum, those with refugee status and other migrants with NRPF.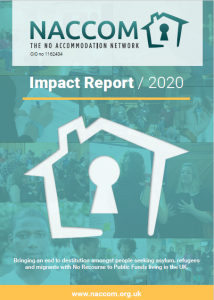 Inside you'll find:
➡️ Key milestones from our year
From events to research reports, media coverage to partnership work, our year in review presents the highlights and milestones from the past 12 months.
➡️ Our Annual Survey data
Every year we ask our members to share vital data so that we can better understand the scale of destitution in the UK and how members in the network are supporting those experiencing destitution. The information we receive from members is invaluable for our campaigns, policy and communications work.
➡️ Voices of lived experience
How do people with lived experience of the asylum process help shape our work? And how can we ensure their experiences are heard by decision makers in order to affect policy change?
➡️ Our advocacy and campaigns work
How are we pushing for policy change to bring about a more just and humane asylum system, where destitution isn't an inevitable of intended part of the journey for so many people seeking sanctuary in the UK? Our advocacy and policy report shows how we have worked with members, people with lived experience and partners to push for vital change.
➡️ Growth of the NACCOM network
Now in our 16th year as a network – our fifth as a registered charity – learn more about how NACCOM has grown and developed this year, and how we are evolving our support for members.
Plus much more.