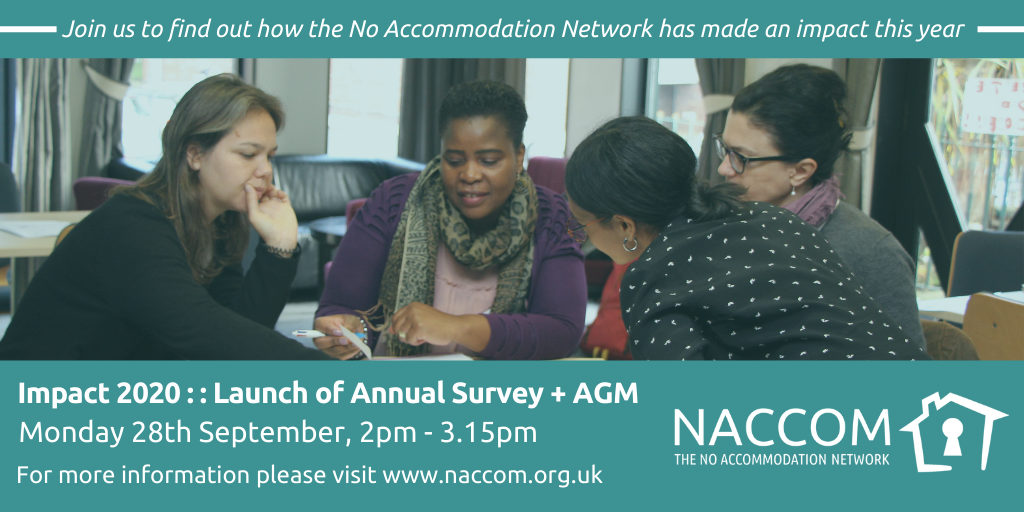 NACCOM invites members, partners and supporters to join us for the online launch of our Annual Survey and Impact Report at our Annual General Meeting (AGM) on Monday 28th September 2020.
Attendees will hear about the scale and impact of NACCOM members' support for people who are destitute and seeking asylum, refugees or migrants with NRPF in 2019-2020, the NACCOM team's key achievements in strengthening members' practice and influence, and our plans to build on this impact with you.
The event will include:
An overview of the key data and themes that emerged from this year's annual member survey
How we have used members' data and evidence to make an impact through our advocacy work this year
The ways we have supported members prior to and during the Covid-19 pandemic
Interview with a member
An opportunity to vote for new and existing Trustees (Full members only – further information attached)
***Update: You can now view a recording of the event below***
Event details:
When: Monday 28th September 2020
Where: Online via Zoom
Time: 2pm-3.15pm
This event is FREE and all are welcome. Please sign up to the event via Eventbrite using this link. (Zoom details will be released with tickets prior to the event).
If you are unable to attend the event but would like to receive a recording, please get in touch with us.
Full Agenda
Welcome – Julian Prior, Chair of Trustees
Introduction to our new National Director – Renae Mann, National Director, NACCOM
Annual Survey Report – Lucy Smith, Campaigns and Policy Coordinator, NACCOM
Supporting our members – Paul Catterall/Katie Fawcett, Network Development team, NACCOM
Impact Report and update from the Community Reporting Group (CRG) for those with lived experience – Hannah Gurnham, Communications Coordinator, and a member of our CRG
Covid-19 Advocacy highlights – Jessie Seal, Campaigns and Policy Coordinator
Summary of the Annual report of Accounts – Julian Prior
Forthcoming strategic review – Renae Mann
Questions from members
Election of existing and new Trustees (Full members only – any Full members wishing to vote but unable to attend can do so in advance. Please get in touch for further information.)