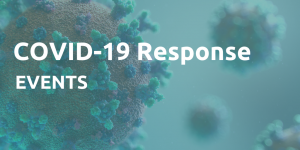 As part of our pandemic response, we're offering the below events and opportunities for members to take part in:
➡️Free Human Resources guidance sessions for Full Members
In light of the changing HR situation many organisations are finding themselves in, we are currently able to offer Full Members of NACCOM access to free specialist HR advice over the phone with an HR consultant, plus access to relevant briefings if needed.
Each Full Member is entitled to a maximum of two hours HR advice. If you think you may need more than this, then please let us know.
How to access your advice session
To book your session please email Gill Taylor who is an HR consultant with specialist knowledge of the voluntary sector, to arrange a time. She is available Monday to Thursday between 9.30 – 13.00.
We're currently only able to offer this opportunity to NACCOM Full Members, however if you're a NACCOM Associate Member then please let us know that you are interested and we will try our best to support you.
---
➡️Free one-to-one coaching and HR support for charity leaders/managers
Many in the charity sector have had to make tough decisions, rapidly. We want to continue to meet the needs of those we support in a different and uncertain environment. If you are a charity manager/leader and would like help in navigating these turbulent times, Nicola Parker can offer you time and space to think via free 1:1 coaching.
Coaching offers a non-judgemental, confidential space that enables you to explore your thoughts, behaviours and beliefs. It helps you identify your goals and find your own solutions through a process of self-discovery and learning facilitated by the coach. Coaching is not advice.
Coaching sessions will be delivered via zoom, last 1 hour and are totally confidential.  They may be carried out as a one off or as part of a series (up to 3).
In addition, having led HR functions in the charity sector for 15 years, Nicola is happy to support leaders of small charities without HR functions with any covid-19 HR issues.
Nicola has 20 years of charity HR experience including 16 years of working in the migration sector at Refugee Action, where she has recently left. She is also a Trustee at ASAP (Asylum Support Appeals Project), a certified coach, CIPD qualified and a member of the ICF (International Coach Federation).
If you would like to have a chat about either coaching or HR support, please email [email protected]
---
➡️Fortnightly members' Zoom call re' Coronavirus
We host a fortnightly members' Zoom call, a chance to chat with others across the network about how charities are responding to the pandemic. This is a great opportunity for members to share thoughts and experiences, and to support others as we all work through this difficult situation. If you would like to join the next call, please email Paul Catterall, our Network Development Worker.
The schedule for meetings in 2021 is as follows:
Tuesday 23rd February
Tuesday 9th March
Tuesday 23rd March 
Details of how to access the call will be circulated via the NACCOM Google group prior to the meeting. If you are not yet a member of the Google group, please email Hannah Gurnham to request access.
---
➡️ Thematic member hub meetingsFollowing feedback from members, we have launched a series of 'thematic' hub meetings to explore the specific issues facing different types of accommodation project and drop-in services in the network, as we transition out of the pandemic. The first meetings took place in June 2020, and focused on:
Housing projects
Hosting projects
Night shelters
Drop-in services
The intention of the thematic hub meetings is to have an open and honest discussion on the "what-ifs" and the key challenges facing members going forward, and for us to identify together areas where we might be able to help and support members in finding workable solutions.
Please check back soon for details of our next thematic hub meeting, or email our Network Development Worker Paul Catterall.