On Tuesday 25th February, NACCOM, Crisis and Homes for Cathy group of Housing Assocations hosted a joint conference in York to explore solutions to migrant homelessness through partnership working and innovation. Friend of NACCOM, Molly Catterall, wrote this guest blog on our one-day conference:
The conference brought together Housing Associations and charities providing accommodation to refugees and other people who have experienced immigration control and destitution, aiming to share ideas, find solutions and expand accommodation provision for people experiencing, or at risk of, destitution.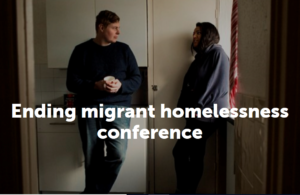 David Bogle, CEO of Hightown Housing Association and Hazel Williams, National Director of NACCOM (the No Accommodation Network) both emphasised the importance of using the conference to provide opportunities to learn how the mainstream and charitable housing sectors can act together to bring about change to migrant homelessness.
David commented, "Migrant homelessness is a massive issue and housing associations and local authorities need to be a part of the solution."
Paul Catterall, NACCOM's Network Development Worker, expressed how we are in a migrant housing crisis as a result of bad Home Office decisions and government policy, but that housing has an important part to play in the solution.
Currently, 65 of NACCOM's 100+ members are providing accommodation, which has resulted in 3211 people being accommodated in 2018-19 who would have otherwise been homeless, 2,341 of whom were destitute people seeking asylum, refugees and other migrants with no recourse to public funds.
Hazel Williams, NACCOM's National Director, talked about the innovation already happening in the network, through partnerships between NACCOM members and Housing Associations.
Julian Prior, CEO of NACCOM member Action Foundation, expressed how having a home helps people feel more positive. "A home provides stability while helping their mental health and the ability to engage with legal services." A resident of Action Foundation said, "Before I was just surviving and now I feel like I am living".
Maria Iglesias, who works for Praxis based in East London, provides support for migrant families and single women, agreed. "Providing a place to stay gives them a chance to gather their thoughts and engage with those helping to regularise their immigration status."
Heather Petch, Housing Consultant, expressed the need to continue these conferences in order to keep the conversation flowing, while celebrating success. "We need another event, but with more Housing Associations which are currently not involved."
Those attending the conference were invited to attend three different workshops;
Thinking outside box: creative innovation within NACCOM network in order to accommodate those with no recourse to public funding.
It makes perfect sense! It fits our ethos and charitable good. A workshop looking at examples of housing associations taking the initiative in tackling migrant homelessness.
Partnership working between NACCOM members and housing associations that contribute to ending migrant homelessness.
Ultimately, at the heart of the event is the central principle that everyone deserves to have a home, feel safe and valued. But for some people, this means fleeing their current home to seek asylum elsewhere in a safe country.
When a person does this and arrives in the UK they are known as an asylum seeker. That is they are someone who is seeking a place of safety under the United Nations 1951 Refugee Convention. Asylum can be granted for a variety of reasons; a person's well-founded fear of being persecuted for reasons of race, nationality, membership of a particular social group or political opinion.
Jonah Mesgarnezhad came to the conference to share his story with delegates to help them have a greater understanding of the problems facing people claiming asylum in the UK.
Over 10 years ago, Jonah fled his home country of Iran having been persecuted for being a Christian convert.  In Iran, the Irian government has very strong views on Muslims who convert to Christianity, which left Jonah feeling very anxious for his safety.
Despite not wanting to leave friends and family and the country he still loves, Jonah left Iran to seek safety arrived in the UK to seek asylum in 2009. On arrival, he was questioned by the Home Office for over 6 hours on his knowledge of the bible and what happened to him in Iran.
Those seeking asylum in the UK ask the government for protection and register a claim while waiting for a decision that can take anywhere from several months to several years, in some cases.
Once an asylum application has been made, the applicant is dispersed anywhere in the UK on a no-choice basis, they are given the support of £37.75 per person week plus housing with bills paid for. But they are not allowed to work or claim mainstream benefits such as universal credit, or access council housing.
Those registering a claim have to prove that they are legitimately unable to return to their country because of fears for their safety, evidence of which is often difficult for people seeking asylum to provide.
The Home Office refused Jonah's asylum case in 2010, not believing he was a Christian, and stopped his support 6 months after his arrival in the UK, leaving him with no access to public funds.
Jonah said: "They refused my case and told me they can help me return back to my country."
Jonah was left shocked that the Home Office didn't believe him, despite years of being persecuted.
Anxious and stressed, Jonah was now a destitute asylum seeker. Jonah came to the UK for safety but now felt every day was like a horror film. "This country was meant to be safe but I felt they were abusing their power calling me a liar."
Being homeless can be extremely daunting and can feel as though you have no one to turn to. Jonah felt worried he was left street homeless and with no support in a strange town with few friends who understood his situation. Jonah was advised to go and speak to Paul Catterall, who was then leading Open Door North East, a charity serving asylum seekers and refugees in the Tees Valley region. This meeting was to give him hope.
"I suddenly felt valued by people" Jonah expressed, "I was supported by the church and the local community."
Jonah was initially housed in a shared house before later being accommodated through a hosting scheme, both projects managed by Open Door North East to tackle migrant homelessness while individuals are supported to overturn poor Home Office decisions.
Jonah lived with a British man through which he had a real insight into British culture. "I even learned how to use forks instead of spoons to eat rice!" exclaimed Jonah.
In 2011 Jonah was finally granted his status as a refugee.
But refugees face a new challenge and are at risk of homelessness even after being given a positive decision. This is because they are only given 28 days to leave their Home Office accommodation, find somewhere to live, apply for universal credit or find a job.  This is impossible to do within 28 days meaning of people are at risk of becoming homeless. NACCOM's May 2018 rpeort called "Mind the Gap" highlighting homelessness amongst newly recognised refugees like Jonah and asking for the move-on period to be extended to 56 days.
After being granted refugee status Jonah wanted to give something back. He moved to Newcastle with his fiancé to study product design engineering at Newcastle University. But when Jonah first moved to Newcastle he was unsure where he would live. Jonah asked for advice from Open Door North East who directed him to Action Foundation, a charity and NACCOM member based in Newcastle helping refugees, asylum seekers, and other migrants, who provided him with a room.
Jonah now works at Action Foundation giving him the opportunity to support those who have been in a similar situation to him. "There were so many broken vulnerable people who just don't have hope" he exclaimed.